Get Results Faster than Ever
Get the answers you're looking for faster in MapleSim 2020, with speed improvements throughout your project.
Get simulation results faster for your models, benefitting from engine improvements that handle even the largest models with ease, ensuring your analysis and real-time applications run smoothly.
Take advantage of the most efficient MapleSim models ever, benefiting from new model formulation technologies for the fastest models yet, without any loss of fidelity.
Run exported models faster on the target platform, since all exported models, including those created using the MapleSim Connector for FMI and the MapleSim Connector for connectivity with Simulink, benefit from these same improvements.
Find the best design parameters sooner by using improved Optimization and Parameter Sweep Apps, which include updated interfaces, expanded capabilities, and faster executions.
Powerful New Features for Machine Builders
MapleSim 2020 makes it easier than ever for machine builders to build and test digital twins, with new components, add-on libraries, and automation-focused connectivity tools.


Build accurate models faster with new machine elements from the Multibody library, which come with automatic mass and inertia calculations, and new 3-D visualization features.
New gripper and proximity sensor components allow you to easily simulate the movement of machine payloads and the dynamic impact on the machine.
Use the new MapleSim Ropes and Pulleys Library add-on product to incorporate high-fidelity models of pulley systems in your machine models, with adjustable parameters.
See more realistic machine visualizations with an expanded Kinematic Cam Generation App, allowing you to define new geometries for cam followers and visualize the results.
Bring simulation and visual debugging to your other automation tools with MapleSim Insight, a new product from Maplesoft that allows you to connect your MapleSim model to any automation tool supporting compiled FMUs, seeing live simulation results and 3-D visualizations of your control strategies.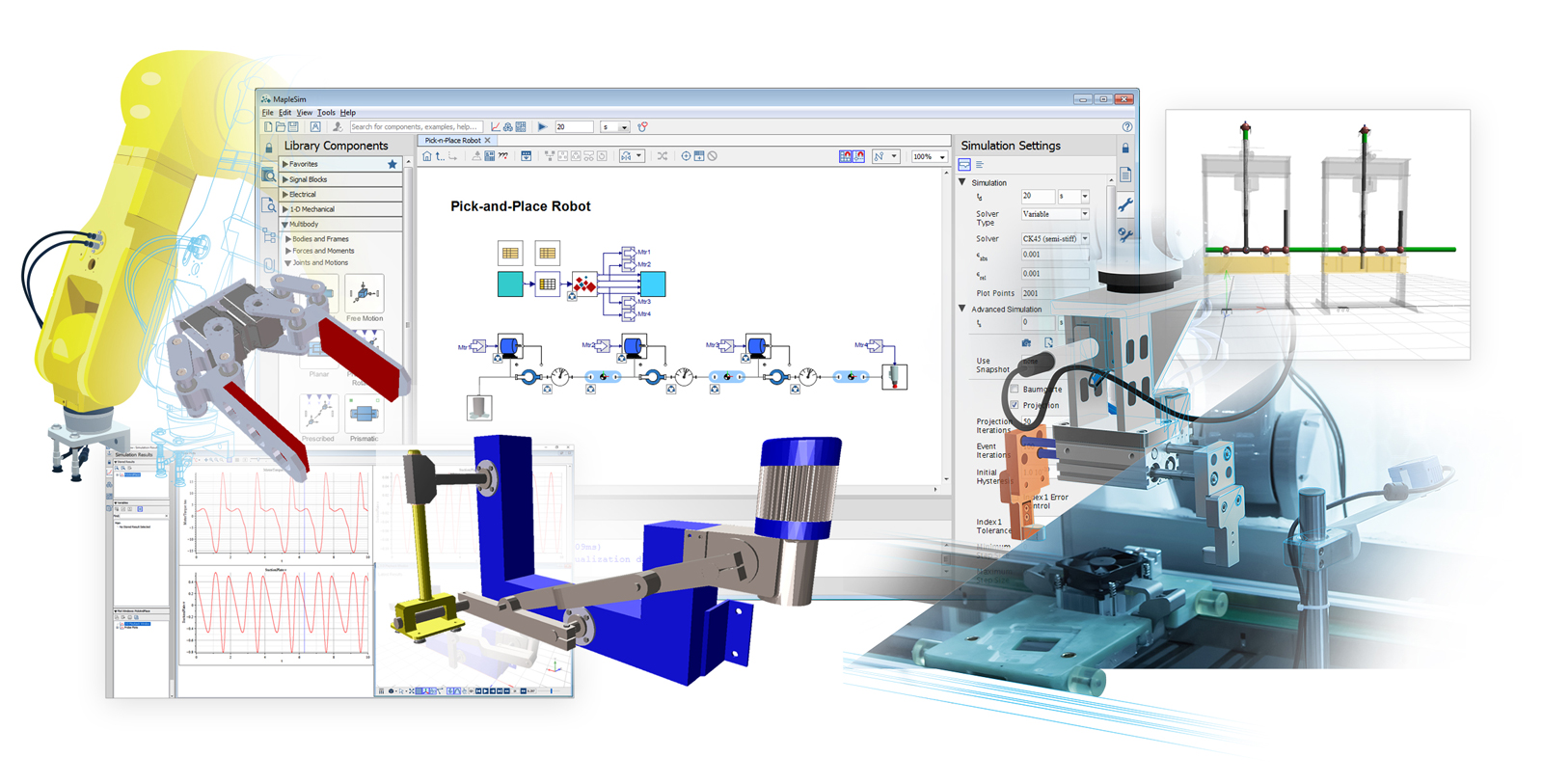 Improved Modeling Capabilities
MapleSim 2020 comes with an extensive collection of updates to components, libraries, and analysis tools to help you create meaningful models of your design projects.
Take advantage of improved applications and components across MapleSim 2020.
New machine elements in the Multibody library give you fast, easy ways to model various machine geometries with automatic calculations of masses and inertias.
New gripper and proximity sensor components give you the ability to simulate the dynamics of moving objects in your machine simulations, such as payload movement.
A new interface for battery parameter ID applications makes it easier for you to analyze battery models
Improved battery library components help you increase the fidelity of your MapleSim models.
Significant speed improvements improve your simulations using the MapleSim Heat Transfer Library add-on.
3-D visualization of flexible beams provides you with more realistic multibody models.
Redesigned icons for many MapleSim components make it easier to find what you need.